Welcome to KARAMA
KARAMA is an independent, non-partisan organization seeking to promote understanding of the issues facing the Arab and Islamic world, and of the Palestinian issue in particular.  KARAMA's vision is that a fresh understanding of the hopes and aspirations of the area's people will replace the stereotypes and distortions that dominate public discourse on the region.  We are involved in several projects to help realize this vision.  On this website you can find information about these projects and you can access resources that we have collected or created that speak to the vital issues of the Arab and Islamic World.
KARAMA Film Screening and Dinner June 14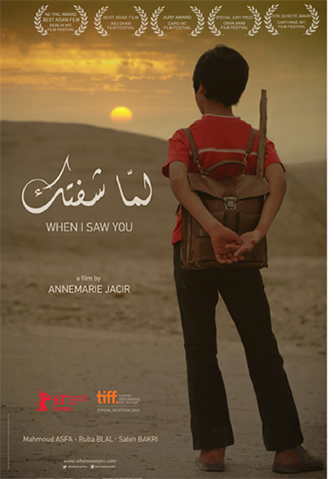 KARAMA is presenting the award winning film When I Saw You directed by filmmaker Annemarie Jacir at the Museum of Photographic Arts at 8:00 PM on the evening of June 14. The film will be preceded by a dinner featuring in the Museum atrium.
When I Saw You made its US premier at the openning night of the Arab Film Festival in San Francisco last year. It was Winner of Best Asian Film at the Berlin International Film Festival, Best Arab Film in Abu Dhabi and Palestine's 2013 Oscar Entry. 
When I Saw You takes place in 1967 Jordan as tens of thousands of refugees pour across the border from Palestine. Having been separated from his father in the chaos of war, Tarek, 11, and his mother Ghaydaa, are amongst this latest wave of refugees. With difficulties adjusting to life in Harir camp and a longing to be reunited with his father, Tarek searches a way out, and discovers a new hope emerging with the times. Eventually his free spirit and curious nature lead him to a group of people on a journey that will change their lives.
Entirely shot in Jordan, the independent film was made with a local cast and crew. Notably, the film's production was entirely Arab-financed with all Palestinian producers, marking a new trend in Arab cinema.
Tickets for dinner and film are $50. Tickets for film only are $12. For tickets, click here.
Mars at Sunrise Available Now!
Award-winning director Jessica Habie's film Mars at Sunrise, which was featured at the 2013 Arab Film Festival, is now available to rent or buy...just click on the button below:
Mars at Sunrise:
A painter's resistance, courage and spirit can never be imprisoned in this highly stylized poetic film from director Jessica Habie. The story of a war waged on imagination, Mars at Sunrise tells the tale of two artists on either side of Israel's militarized borders who wage a surreal battle across bodily and imagined realms, illuminating the power of the artist to survive and even thrive under extreme pressure.
Starring Ali Suliman & Guy El Hanan
Written & Directed by Jessica Habie
Produced by Baher Agbariya
Music by Itamar Ziegler and Tamir Muskat of Balkan Beat Box and Moshen Subhi
KARAMA offers supplementary materials
on teaching about Islam and teaching the Palestine/Israel conflict
KARAMA has developed a packet of supplementary materials that is intended to be used as an aid in presenting the information already in seventh grade social studies textbooks. The materials are organized into three content categories plus an overview and a list of links to additional resources. The three categories are Introduction to Islam, Beliefs of Islam, and Islamic Achievements. Please review these materials, and if you find them useful, feel free to download and reproduce as needed. To see these materials, click here.
In addition, Karama offers the Lesson Outline and supplementary materials for the workshop Teaching the Palestine/Israel Conflict: A Multuple Narratives Approach developed by Dr. Samia Shoman. To see these materials. click here.
The piece below is KARAMA's overview of the issues of the region.
The Modern History of the Arab and Islamic
World is Inseparable From Colonialism
From the 1916 Sykes-Picot Agreement, the 1917 Balfour Declaration, and the 1920's League of Nations Mandates to the contemporary occupation of Palestine and calls for "regime change," major features of the region have been imposed by the West with little regard for the rights and hopes of the people living there.